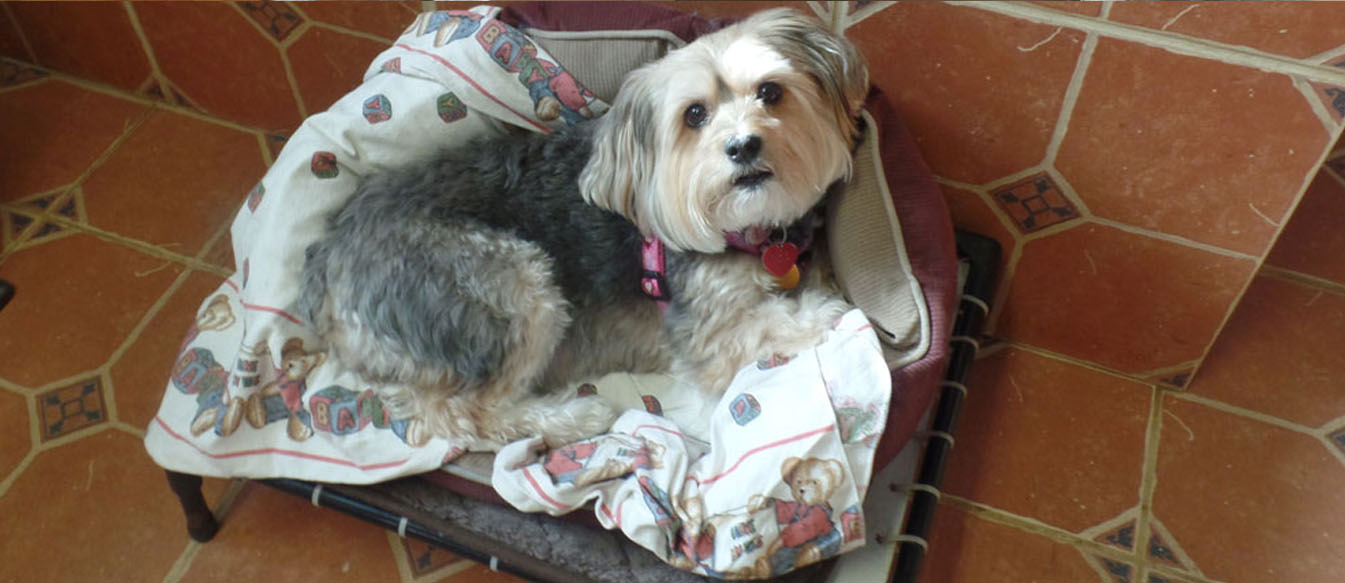 What a fabulous experience not only for our dog but for ourselves too!! Both my husband and I were so worried about our Shih Tzu Buddy going to doggie daycare at Four Paws as our dog has never been to any facility or kennel before. We need not have worried at all - Buddy has come back relaxed, calm and happy as well as very tired from all the playing. We are so happy and pleased that we went to Four Paws, everyone was really kind and professional, I can't rate your service high enough or say thank you enough for what you have done for us. You will definitely be seeing a lot more of Buddy soon.

Thank you once again for making it such a wonderful experience.
Lyndsay
---
Guinness is a 6 month old Greater Swiss who's been attending Four Paws for about 3 weeks now - he's very excited when he's being dropped off which is a great sign that he really does enjoy his time with other dogs. The Staff is super friendly. I would highly recommend this facility to get your puppy to socialize with other dogs. Thanks All..

Thank you for all you do. Cooper is a much happier and healthier dog because of Four Paws. He's better with new people and new dogs, too!
Cordially, Cindy
---
Hi Ladies!

I just wanted to thank you for the wonderful care Argon received while both my husband and I were away! Chuck said that by the third day Argon was visibly excited when he saw where he was going! ;)

I can't thank you enough for the piece of mind while we were away and we will definitely be using you again!!!
Sandy
---
My dog Oscar is getting up there in age and is afraid of everything. The owners put me and Oscar at ease as soon as we arrived. They welcomed him with open arms, cuddled him and made him feel relaxed. They kept him with smaller dogs so he wouldn't feel overwhelmed by the big dogs. I was very happy to be able to leave him someplace where he was comfortable.
Nancy Vail and Oscar
---
My dog Casey loves going to daycare at Albany Four Paws Inn. As soon as I turn down the driveway he paces in the back seat and whines to be let out to play. It makes me happy knowing he enjoys his day while I'm at work. I also love how tired he is when I pick him up in the afternoon!!! Thank you!
Ginger
---
Hello, My name is Allie Piper and I love to go to day care at Four Paws. All my friends go there and we have so much fun. Sometimes we try to see who can bark the loudest or who can run the fastest. When I catch the ball, I don't give it to any of my friends.

The most fun is when Danielle comes and plays with us. We all attack her and sometimes we even knock her down. We love her so much. Once in a while I even get to stay over night. We have a kind of PJ party and play after "lights out". Danielle never gets mad!

After a day at Four Paws I go home and take a long nap. My Mommy is always so happy to see me when she comes to get me. Hope to see you at Four Paws sometime. Ask for Allie and I will be your friend.
Allie Piper